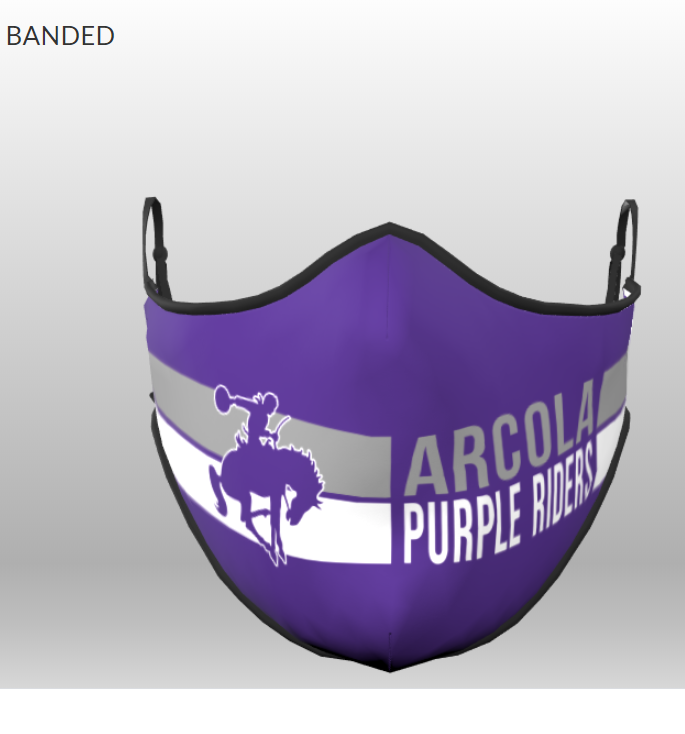 Back to School Plans
Tom Mulligan
Friday, July 10, 2020
Dear Parents/Guardians,
I want to first thank those of you that took the time to complete the survey regarding returning to school for the 2020-2021 school year. The district staff members have been and will continue to use those results as we plan for the start of school.
I presented a tentative big picture plan to the school board this week at the regularly scheduled board meeting. As you can imagine, the development of all of the details of this plan is going to take some time. But, we wanted to get the big picture idea out to the staff and public as soon as possible so you can start planning as a family. The school board will have a special board meeting on Wednesday, July 29 at 7:00 pm to officially consider approving the Arcola School District Return to School Plan.
Phase 4 IDPH-ISBE Guidelines
As most of you know, the Phase 4 Guidelines from the Illinois State Board of Education and the Illinois Department of Public Health include the following:
1. Require use of appropriate personal protective equipment (PPE), including face coverings; Face coverings (masks, not shields) are required for everyone inside the school building. Face coverings outside the building are not required if appropriate social distancing can be maintained.
2. Prohibit more than 50 individuals from gathering in one space.
3. Require social distancing be observed, as much as possible.
4. Require that schools conduct symptom screenings and temperature checks or require that individuals self-certify that they are free of symptoms before entering school buildings.
5. Require an increase in school-wide cleaning and disinfection.
Click here for a complete list of State Guidelines
Guiding Principles
The district planning team is using the following guiding principles in developing the plan:
1. Employees' and students' physical and mental health are of primary concern.
2. Student learning is most effective when students are involved with in-person learning regardless of the age. As a result, the plan tries and maximize the amount of time where students are involved in in-person learning.
3. Going from complete remote learning to an in person learning platform will be a complicated transition for many students, especially our younger students.
4. All stakeholders must be flexible because guidance, procedures and the spread of the virus will continue to evolve.
5. Building staff will need sufficient time to make adjustments to ensure the district's ability to keep students and staff safe.
Critical Questions
When looking at the overall recommendation, the district planning team considered these (and more) key questions:
1. Keeping in mind the fact that face coverings will be required and this will be a big transition for many students, should we start with shorter days to allow for the transition?
2. Does the length of day need to be the same for all students (not including preschool)?
3. Do we allow families to choose from a menu of learning options: in person learning, remote learning and/or a blended approach? Would this be feasible for our staff to effectively handle?
4. With our building and classroom space, can we provide effective social distancing if we allow all students to come back at the same time?
5. Is there are a general consensus from the families that completed the survey?
Tentative Base Recommendation
Taking all things into consideration, the district administration recommends starting the school year with a blended learning approach with the goal of eventually transitioning to an all-day in person learning approach while at the same time, preparing to move to remote learning if needed.
1. All students, unless they have specific medical documentation (details and procedures on this will be communicated), will be required to attend school in the same manner as other students. If the district chooses a blended approach, then all students are blended. If the district chooses and all "in person" approach, then all students are "in person", etc.
2. School will start with teacher institute days on Monday and Tuesday (17th and 18th). No students will be in attendance on those days.
3. August 19 through September 3 will be a blended learning approach
All students will attend school from 8 am to 12:30 pm. After lunch, all students will be dismissed.
Elementary students will have their core instruction in class in the morning and will be assigned at home remote assignments for specials (art, music, PE) in the afternoon.
Junior high and high school students will alternate periods 1-4 on one day and then 5/6-9 on the second day. They will then be assigned homework/remote assignments for the remaining part of the day.
4. If things go well the first few weeks, we may use September 4 as a remote planning day for district staff to plan. No students will be in attendance on this day.
5. From September 8 through October 2, students will attend school from 8 am to 2 pm.
6. Hopefully, we will be able to move to full days starting October 5.
Obviously, this timeline will need to be flexible as we are unsure exactly how things will go once we get students and staff back in the building.
Next Steps
The following timeline will be followed as the district progresses towards finalizing the plan for approval:
July 9
Communicate initial overall plan to families
Communicate initial overall plan to staff
Establish working committees – Admin Team, Building Level Planning Teams, Food Service Team, Transportation Team, Health and Wellness Team, Special Service Planning Team, Facility/Cleaning Team
Ensure On-Going Meeting with District and Association regarding working conditions
July 10 – July 24
Planning teams work to compete details of the plan
Superintendent finalizes draft "Transition Back to School Plan"
Ensure On-Going Meeting with District and Association regarding working conditions
July 27
Draft plan provided to the School Board for review
Draft plan released to the families
July 29
Special Board Meeting for board to consider approval of Back to School Plan
On-Going Communication
The district will be posting a question/answer document on the district website. The document will be posted by Monday, July 13. As plans develop, information will be posted to keep everyone up to date on details of the plan.
At this point, please direct all questions and comments to the district superintendent, Tom Mulligan at tmulligan@arcolaschools.com or 217-268-4963. He will then forward the message or comment to the appropriate team or staff member for review and follow-up.
_________________________________________________________________________________________
Estimados padres/tutores,
Primero quiero agradecer a aquellos de ustedes que se tomaron el tiempo para completar la encuesta sobre el regreso a la escuela para el año escolar 2020-2021. Los miembros del personal del distrito han usado y continuarán usando esos resultados a medida que planeamos el comienzo de la escuela.
Anoche presenté un plan general tentativo a la junta escolar en la reunión regular programada. Como puede imaginar, el desarrollo de todos los detalles de este plan llevará algún tiempo. Pero, queríamos hacer llegar la idea general al público lo antes posible para que puedan comenzar a planificar en familia. La junta escolar tendrá una reunión especial de la junta el miércoles 29 de julio a las 7:00 pm para considerar oficialmente la aprobación del Plan de Regreso a la Escuela del Distrito Escolar de Arcola.
Pautas de la Fase 4 de IDPH-ISBE
Como la mayoría de ustedes saben, las Pautas de la Fase 4 de la Junta de Educación del Estado de Illinois y el Departamento de Salud Pública de Illinois incluyen lo siguiente:
1. Requerir el uso del equipo de protección personal (EPP) adecuado, incluidos los revestimientos para la cara. Se requieren cubiertas faciales (máscaras, no escudos) para todos dentro del edificio escolar. No se requieren cubiertas faciales fuera del edificio si se puede mantener un distanciamiento social adecuado.
2. Prohibir que más de 50 personas se reúnan en un espacio.
3. Exigir que se observe el distanciamiento social, tanto como sea posible.
4. Exigir que las escuelas realicen pruebas de detección de síntomas y temperatura o que las personas se autocertifiquen que no presentan síntomas antes de ingresar a los edificios escolares.
5. Exigir un aumento en la limpieza y desinfección de toda la escuela.
Principios rectores
El equipo de planificación del distrito está utilizando los siguientes principios rectores en el desarrollo del plan:
1. La salud física y mental de los empleados y estudiantes es la preocupación principal.
2. El aprendizaje de los estudiantes es más efectivo cuando los estudiantes participan en el aprendizaje en persona, independientemente de la edad. Como resultado, el plan intenta maximizar la cantidad de tiempo en que los estudiantes participan en el aprendizaje en persona.
3. Pasar del aprendizaje remoto completo a una plataforma de aprendizaje en persona será una transición complicada para muchos estudiantes, especialmente para nuestros estudiantes más jóvenes.
4. Todos deben de ser flexibles porque la orientación, los procedimientos y la propagación del virus continuarán evolucionando.
5. El personal del edificio necesitará suficiente tiempo para hacer ajustes para garantizar la capacidad del distrito de mantener seguros a los estudiantes y al personal.
Preguntas críticas
Al observar la recomendación general, el equipo de planificación del distrito consideró estas (y otras) preguntas clave:
1. Teniendo en cuenta el hecho de que se requerirán cubiertas faciales y esta será una gran transición para muchos estudiantes, debemos comenzar con días más cortos para permitir la transición?
2. ¿La duración del día debe ser la misma para todos los estudiantes (sin incluir el preescolar)?
3. ¿Permitimos que las familias elijan de un menú de opciones de aprendizaje: aprendizaje en persona, aprendizaje remoto y / o un enfoque combinado? ¿Sería factible para nuestro personal manejar eficazmente?
4. Con nuestro edificio y espacio en el salon, ¿podemos proporcionar un distanciamiento social efectivo si permitimos que todos los estudiantes regresen al mismo tiempo?
5. ¿Existe un consenso general de las familias que completaron la encuesta?
Recomendación de base provisional
Teniendo en cuenta todas las cosas, la administración del distrito recomienda comenzar el año escolar con un enfoque de aprendizaje combinado con el objetivo de eventualmente pasar a un enfoque de aprendizaje en persona durante todo el día y, al mismo tiempo, prepararse para pasar al aprendizaje remoto si es necesario.
1. Todos los estudiantes, a menos que tengan documentación médica específica (se comunicarán detalles y procedimientos al respecto), deberán asistir a la escuela de la misma manera que otros estudiantes. Si el distrito elige un enfoque combinado, entonces todos los estudiantes se mezclan. Si el distrito elige un enfoque de todo "en persona", entonces todos los estudiantes son "en persona", etc.
2. La escuela comenzará con días de instituto maestro el lunes y martes (17 y 18). Ningún estudiante asistirá en esos días.
3. El 19 de agosto hasta el 3 de septiembre será un enfoque de aprendizaje combinado.
Todos los estudiantes asistirán a la escuela de 8 am a 12:30 pm. Después del almuerzo, todos los estudiantes serán despedidos.
Los estudiantes de primaria tendrán su instrucción básica en clase por la mañana y serán asignados tareas remotas en el hogar para especiales (arte, música, educación física) por la tarde.
Los estudiantes de secundaria y preparatoria alternarán los períodos 1-4 en un día y luego 6-9 en el segundo día (el período 5 es el almuerzo). Luego se les asignarán tareas/ tareas remotas por la parte restante del día.
4. Si las cosas van bien las primeras semanas, podemos usar el 4 de septiembre como un día de planificación remota para que el personal del distrito planifique. Ningún estudiante asistirá este día.
5. Del 8 de septiembre al 2 de octubre, los estudiantes asistirán a la escuela de 8 am a 2 pm.
6. Con suerte, podremos pasar a días completos a partir del 5 de octubre.
Obviamente, esta línea de tiempo tendrá que ser flexible ya que no estamos seguros exactamente de cómo irán las cosas una vez que los estudiantes y el personal vuelvan al edificio.
Próximos pasos
Se seguirá el siguiente cronograma a medida que el distrito avance hacia la finalización del plan para su aprobación:
9 de julio
Comunicar el plan general inicial a las familias

Comunicar el plan general inicial al personal

Establecer comités de trabajo: Equipo de administración, Equipos de planificación a nivel del edificio, Equipo de servicio de alimentos, Equipo de Transporte, Equipo de Salud y Bienestar, Equipo de planificación de Servicios Especiales, Equipo de Limpieza de instalaciones.

Asegurar una reunión continúa con el distrito y la asociación sobre las condiciones de trabajo
del 10 de julio al 24 de julio
Los equipos de planificación trabajan para completar los detalles del plan

El superintendente finaliza el borrador de "Transición de regreso a la escuela Plan "

Asegurar una reunión continúa con el Distrito y la Asociación con respecto a las condiciones de trabajo
27 de julio
Proyecto de plan proporcionado a la Junta Escolar para su revisión

Proyecto de plan publicado para las familias
29 de julio
Reunión especial de la Junta para que la junta considere la aprobación del Plan de Regreso a la Escuela
Comunicación Continua
El distrito publicará un documento de preguntas / respuestas en el sitio web del distrito. El documento se publicará antes del lunes 13 de julio. A medida que se desarrollen los planes, se publicará información para mantener a todos actualizados sobre los detalles del plan.
En este punto, dirija todas las preguntas y comentarios al superintendente del distrito, Tom Mulligan, a tmulligan@arcolaschools.com o al 217-268-4963. El despues enviará el mensaje o comentario al equipo apropiado o al miembro del personal para su revisión y seguimiento.