Join us this Thursday at 6:00 for our Hispanic Heritage Night celebration at the Arcola Community Center! Acompáñanos a celebrar el Mes de la Herencia Hispana el jueves a las 6:00 en el Arcola Community Center!


Reminder - The school district is offering iPad insurance for all students in grades K-12. The cost is $15 and the deadline is August 30th. Please turn payments in to Mrs. Hohlbauch.


Be prepared for kids going back to school. Do you know the rules of a school zone?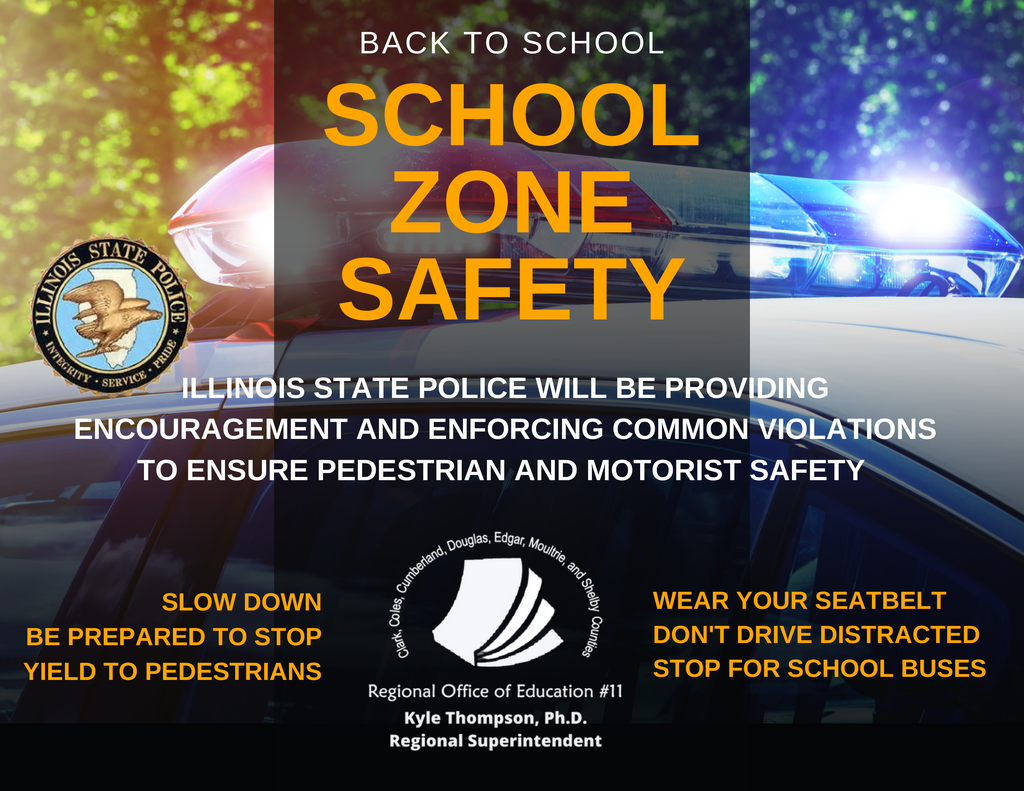 Don't forget to get your student(s) registered for the 2023-2024 school year. Log in through your parent Teacher Ease account to complete registration. If you don't know your password but have an email on file, click the forgot password link in Teacher Ease. If you need to add an email address to the system please email
jhohlbauch@arcolaschools.com
.


With registration right around the corner we want to remind everyone that iPad insurance is now offered for all students in grades K-12. The cost is $15 per year and covers all accidental breakage of the iPad. The chart below explains the coverage in more detail. You can add the insurance during online registration and pay online or send payment to the attention of Mrs. Hohlbauch. The insurance fee must be paid by August 31st to have coverage for the 2023-2024 school year.


We are happy to be able to offer our Elementary students (K-6) iPad insurance this year. Be sure to add insurance for your student during the registration process. NOTE: More information on registration will be posted in a few days.



Attention: The cafeteria will not be serving any salads next week.

Don't forget to return your library books!

Miss Arcola Pageant Informational Meeting Calling all girls from ages 4 to 21 that are interested in entering the Miss Arcola Pageant. We will have an informational meeting Tuesday evening the 7th of March at the Arcola Center. 5:30 pm for Little Miss (4-6 yrs.) and 6 pm for all other age groups. Find out what the pageant offers and how you can compete on April 8th. Pageant experience is not necessary.

Lunch for tomorrow February 16th - Cheeseburger soup Ham and Cheddar Melt

Preschool Round Up Information
Dr. Mulligan recently posted the updated soccer feasibility study on the school district website at
https://www.arcola.k12.il.us/page/soccer-report
. The Arcola School Board will be discussing the report at their school board meeting on Wednesday, January 11 at 7:00 pm in the Arcola High School Library. The school board will not be voting on the whether or not to add soccer at this point but rather will be discussing the report. Dr. Mulligan publicó recientemente el estudio de factibilidad de fútbol actualizado en el sitio web del distrito escolar en
https://www.arcola.k12.il.us/page/soccer-report
. La Junta Escolar de Arcola discutirá el informe en su reunión de la junta escolar el miércoles, 11 de enero a las 7:00 pm en la Biblioteca de la Escuela Secundaria de Arcola. La junta escolar no votará si agregar o no fútbol en este momento, sino que discutirá el informe.

Douglas County Health Center Information Sessions - Open to the Public Join us on Wednesday Jan 11th in Arcola.
The Arcola Community Economic Development Organization (ACED) will be hosting an informational meeting tonight, November 2 at 6:30 pm to discuss the possibility of a community based day care facility for Arcola that could include a partnership with the Arcola School District. The meeting has been moved to the Arcola Elementary School Library.